IREO Gurgaon Hills
Gwal Pahari, Gurgaon, Faridabad Road
Welcome to Ireo Gurgaon Hills
India is one of the fastest growing countries of the world. India has seen tremendous growth in all sectors i.e., education, research, technology, science and lot more. In these sectors, only real estate is one sector that has formed an imperative image since last few years. Real estate in Delhi/NCR has seen an unanticipated growth in its rates and demand as well. Real Estate companies have made pre planned architect structure that ensures to have the world class accommodating environment. There are a huge number of well-known builders and real estate players that have contributed with there in depth research and magnificent designs while modernizing India's outlook into high-class and elegant architect look.
Ireo Gurgaon Hills Gwal Pahari is a new residential projects launched by ireo Builders.
Ireo Gurgaon Hills is a residential project by Ireo Developers in Valley View Estate, Gurgaon. Apartments along with Ireo Gurgaon Hills Floor Plan with a wonderful blend of contemporary architecture and features are available as part of the project, providing a comfortable living environment.
Ireo Gurgaon Hills is located amid the lush green woodlands of the Gurgaon-Faridabad route, barely a kilometre from Delhi and 5 minutes from Gurgaon's famed Golf Course Road. These rare premium apartments as per Ireo Gurgaon Hills Price segments are bordered on one side by the protected Aravalli Hills and the other by the gorgeous Delhi Ridge, providing a refuge where singing birds and evergreen trees coexist. Its exquisite elegance is further enhanced by spacious, low-density unit layouts. At  Ireo Gurgaon Hills, you'll find the right balance of nature and architecture.
With chattering birds and evergreen trees, it was created in perfect harmony with nature. These enormous apartments, which are a wonderful combination of nature and architecture, allow you to live a life of independence, luxury, and comfort. The structure is endowed with a multitude of facilities that will redefine what luxury means to you. Each of the rooms in this house blends in flawlessly with the others to create residences that are beyond compare in terms of beauty. Live life to the fullest here with your loved ones, bringing pleasure, togetherness, laughing, and a happy home with you and family.
IREO Gurgaon Hills Gurgaon 4 & 5 BHK Ready to move-in homes that provide a seven-star living. This project is not RERA-registered. The project is stretched out over a 15-acre plot of land. There are six buildings in all at Ireo Gurgaon Hills. The building has a total of 27 floors. A total of 268 units of lodging have been provided. For a better living experience, there are 46 facilities available.
IREO GURGAON HILLS FEATURES
Total = 6 Towers
All units are atleast 3-side open, and have full-frontage glass curtain
Only 2 apartments to a floor
Grand, fully furnished, air-conditioned entry lounge of each tower with its 20 ft high ceiling
Each apartment will also have luxury of a private high-speed elevator
4 BHK and 5 BHK have specially designed double-volume living rooms and wrap around balconies
5 BHK duplex unit has an additional rooftop garden that can be used as a party terrace.
Rooftop infinity lap pool sits majestically a top the clubhouse
IREO GURGAON HILLS AMENITIES
24Hrs Backup Electricity
Fire Safety
Badminton Court
Basket Ball Court
Cafeteria
Club House
Covered Car Parking
Cricket Court
Gated Community
Gym
Health Facilities
Indoor Games
Landscaped Garden
Library
Meditation Hall
Play Area
Pucca Road
Security Personnel
Street Light
Swimming Pool
Tennis Court
IREO GURGAON HILLS PLAN & PRICES
3 BHK + S.R + Study + Store – 4787 Sq. Ft.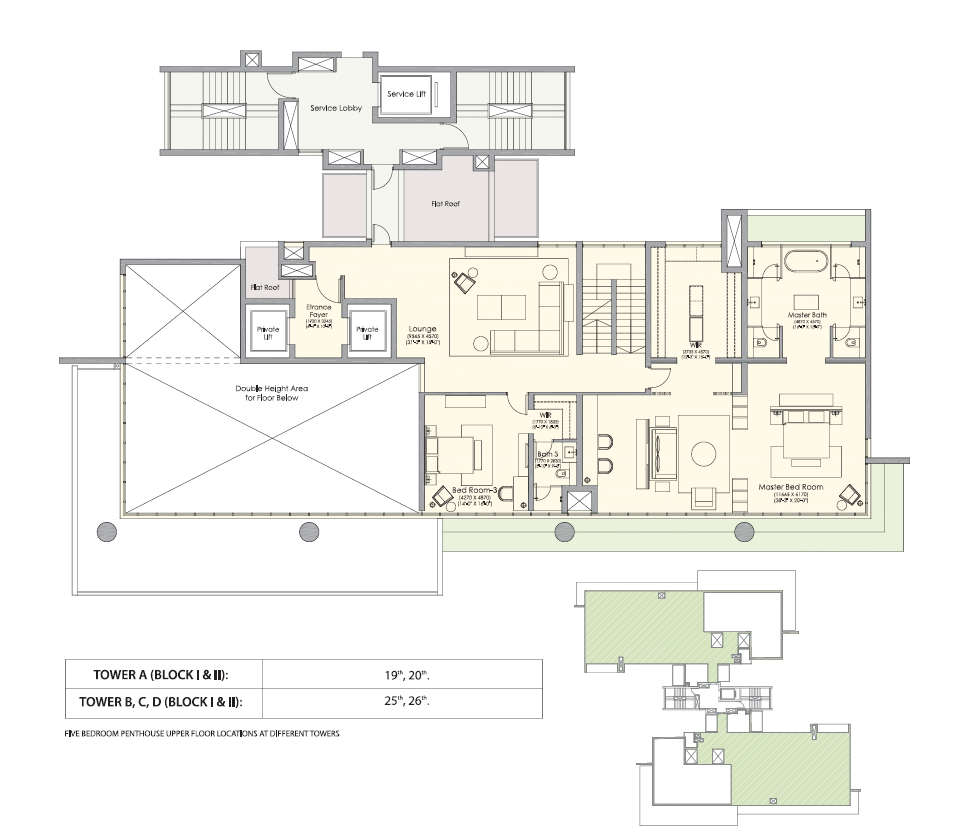 4 BHK + S.R + Study + Store + F.L – 6388 Sq. Ft.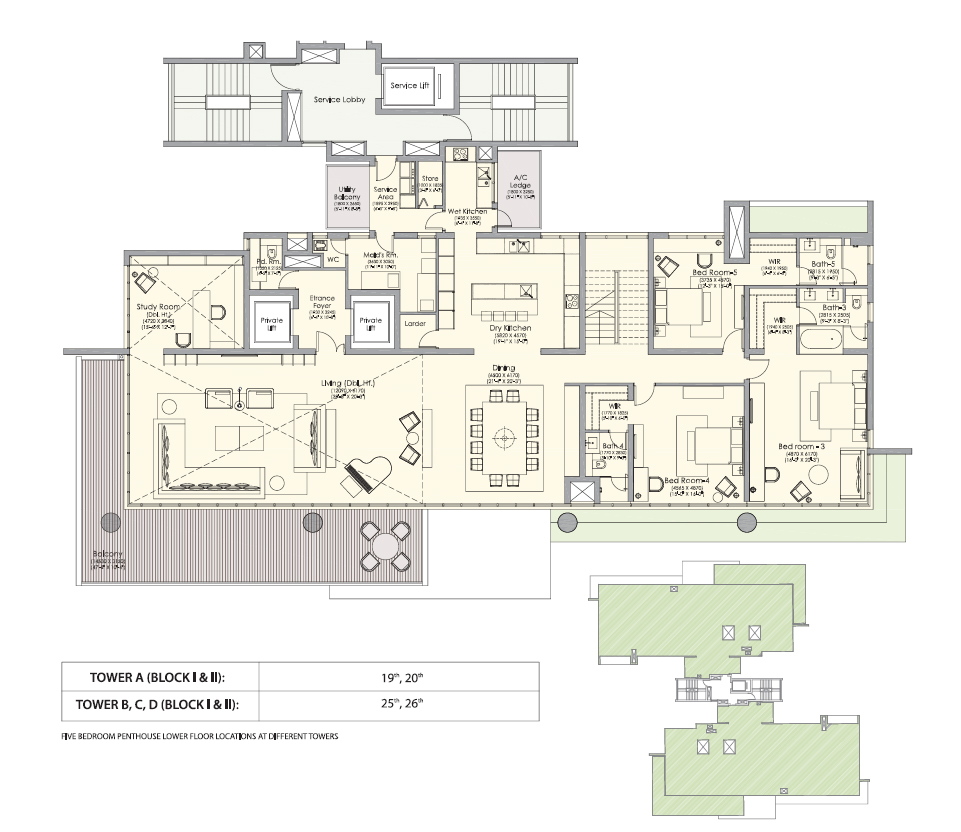 IREO GURGAON HILLS LOCATION
IREO GURGAON HILLS MASTER PLAN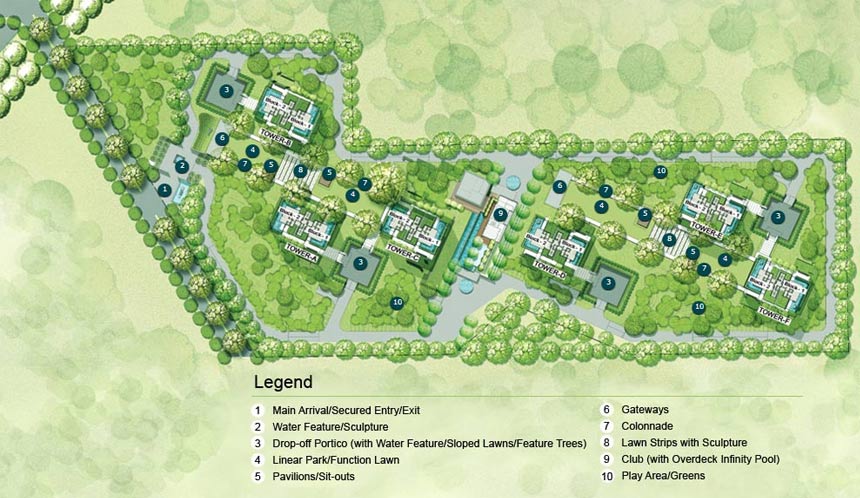 Preference for the locality
There are a lot of reasons why one should choose this place like:
Only two flats on each floor, resulting in three side-by-side open apartments.
Natural Forested Landscapes Surround You
There are two private high-speed elevators in each apartment.
5-minute drive from Golf Road, near the brilliant lights of Gurgaon and South Delhi.
IGI Airport is easily accessible.
In India, Ireo is a leading real estate development firm. The firm, which was founded in 2004, has one of India's largest portfolios, including properties across Delhi NCR, Punjab, Tamil Nadu, and Goa. It is led by a group of competent Indian and expatriate experts with a variety of experiences who try to provide the finest projects to their clients. The firm has its sights set on the future, having completed several projects and having many more in various stages of development.